It's that time of year again — the season for giving. Luckily, there's no shortage of great gift ideas at Wine Enthusiast. Whether you're buying for a veritable wine fanatic or the occasional dabbler, we guarantee you'll find the perfect gift for that special someone. From show-stopping wine refrigeration units to simple and elegant stemware, we're going to go through some of our most popular gift items. There's sure to be a perfect present on our list — no matter the occasion or budget.
In assembling this list, we spared no detail. Our experts at Wine Enthusiast poured over (excuse the pun) pages and pages of inventory to create a diverse, practical gift guide for the 2019 holiday season.
BEST WINE GIFTS
For those who entertain often, this one's a must-have. This intuitive, innovative gadget is one of the handiest items on our list. With just the touch of a button, the Electric Blue Pro automatically opens and aerates your wine, and then seals and naturally preserves the vintage. It comes in a six-piece set that includes the automatic wine opener and preserver, electric aerator, foil cutter, 2 vacuum stoppers and charging base.
Besides being an incredible piece of equipment, the Electric Blue Wine Opener comes in a futuristic cobalt blue, making it an excellent piece of decor in any modern kitchen counter top. The Electric Blue Pro is an all-in-one showpiece that quite literally does the work for you. 2.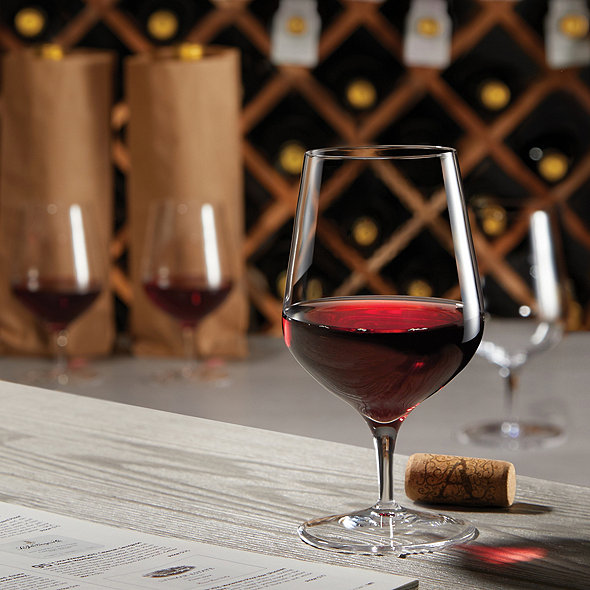 Just how great are these short-stem glasses? For starters, they're the Official Glass of the Wine Enthusiast Magazine Tasting Panel. The flat-footed, short-stemmed design makes them nearly impossible to tip over, while also allowing these glasses to fit comfortably in the top rack of any standard dishwasher. A wide, universal bowl makes these glasses perfect for both whites and reds. On top of all of that, they're handmade and sturdy enough to make it through even the liveliest celebrations. In the rather unlikely event that they break, these glasses come with a 10-year replacement guarantee. You break it, we replace it — absolutely free.
For those budding wine collectors in your life, the Wine Enthusiast 13-Piece Glassware Gift Set is the perfect present. It contains six gracefully stemmed glasses, six modern tumblers, and a decanter made to ventilate wine. All glassware in this set features versatile, universal bowls that are designed to drink both reds and whites. Meanwhile, the decanter itself is precision designed to amplify a wine's true aroma and flavor. This type of unique, handcrafted glassware is crucial in getting the most out of your wines. All of this comes at an incredible price and arrives in a beautiful, gift-ready box.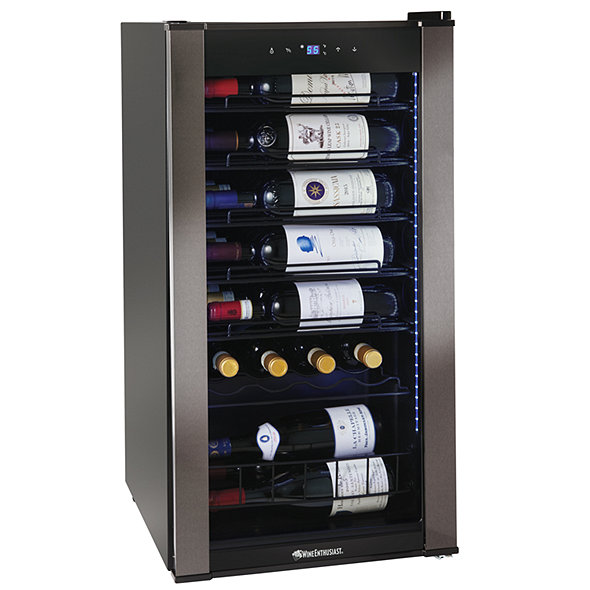 If that special someone in your life has a particularly strong wine collection, consider the Wine Enthusiast VinoView 28-Bottle Wine Cellar. This state-of-the-art wine refrigerator displays bottles with the label forward, to create a showstopping, gorgeous piece of decor. This unit is just as much 'function' as it is 'form'. It holds up to 28 bottles, making this refrigerator perfect for a growing, diverse wine collection. With its compressor cooler, the Wine Enthusiast VinoView 28-Bottle Wine Cellar is built to last. In fact, compressor coolers are known to last twice as long as comparable thermoelectric cellars, so you can buy with peace of mind. All of this comes in a sleek, modern design accented by dramatic LED lighting.
Made from genuine buffalo leather, this two-bottle tote is the perfect gift for wine lovers on the go. Its padded interior is complete with fully detachable dividers, so your bottles are always completely protected. This unique design makes carrying your fine wines stylish, safe, and convenient.
In addition to the bag itself, this gift item also comes complete with a waiter's corkscrew. This sturdy, durable corkscrew is contained in a matching buffalo leather pouch that fits conveniently in the wine tote. With optional monogramming, this corkscrew pouch is the perfectly personalized companion to our stylish buffalo-leather wine tote.
6. VinoVoyage 2.0 TSA-Approved Wine Suitcases (6 bottle & 12 bottle)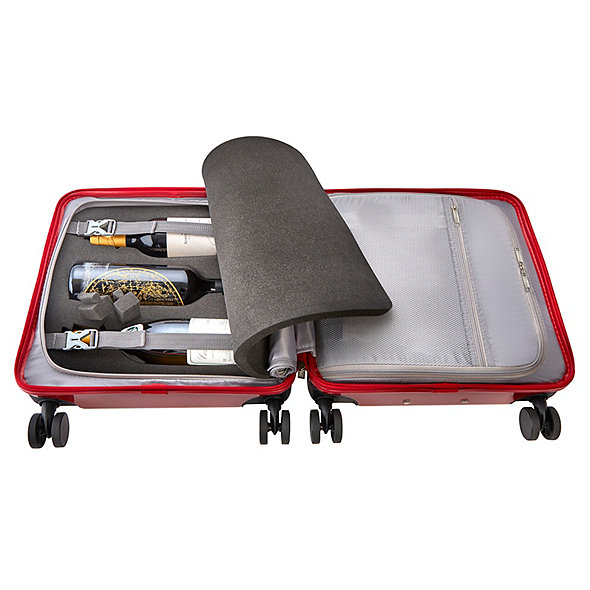 For the jet-set wine lover in your life, the VinoVoyage 2.0 is the perfect present. This TSA-Approved Wine Suitcase comes in 6 or 12-bottle capacity, making it easy to travel the world and bring your wine home safe. The VinoVoyage suitcases are equal parts form and function — designed with style in a Bordeaux red color and built to protect your investments during travel. The suitcases feature reinforced corner protectors, double spinner wheels, telescoping handles, and patent-pending foam inserts to cocoon several different bottle types.
The six-bottle version is perfect for the casual collecting traveler, featuring full protection in a compact form factor. On the other hand, the larger twelve-bottle size is complete with a built-in digital scale, making it ideal for particularly ambitious and experienced travelers.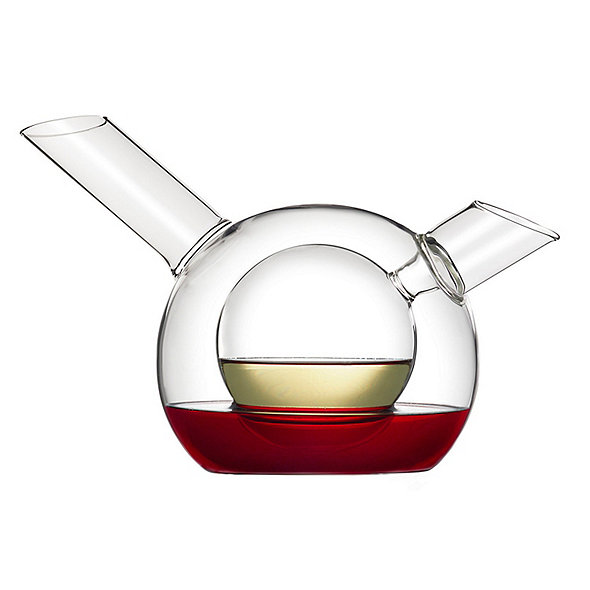 This unique, ultra-modern decanter is an elegant and forward-thinking gift for wine lovers. Two independent chambers make this decanter incredibly versatile (and gorgeous). You can conveniently pour two-ingredient cocktails for yourself and your guests, or you can easily switch between two wines without having to use two dedicated decanters. Each chamber perfectly aerates wine being poured as well, which means you can seamlessly switch between options throughout your festivities. Its unique design ensures that the two wines (or ingredients) won't ever mix in the decanter, creating an ultra-modern, smartly designed showpiece that is as beautiful as it is functional.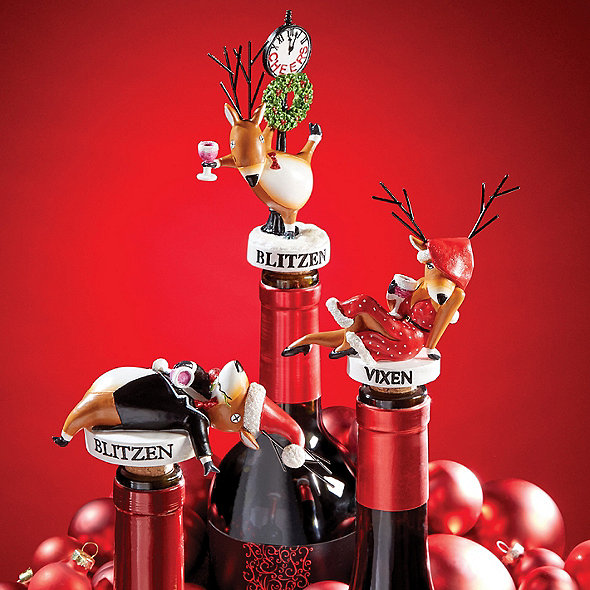 While some of the gifts on our list are particularly ambitious, we've got some great stocking-sized options as well. For instance, our festive-and-fun Blitzen and Vixen Bottle Stoppers. These hilarious, outrageous bottle stoppers make the perfect stocking stuffer or grab-bag gift. Portraying Blitzen and Vixen as troublemakers who got into a bit too much fun, these whimsical bottle stoppers are sure to delight. Toss them in a stocking, or simply include them with a few other knick-knacks for a festive, casual gift. These handy and silly bottle stoppers will fit any standard bottle of wine or spirit, making them a great present for the humorous wine lover in your life.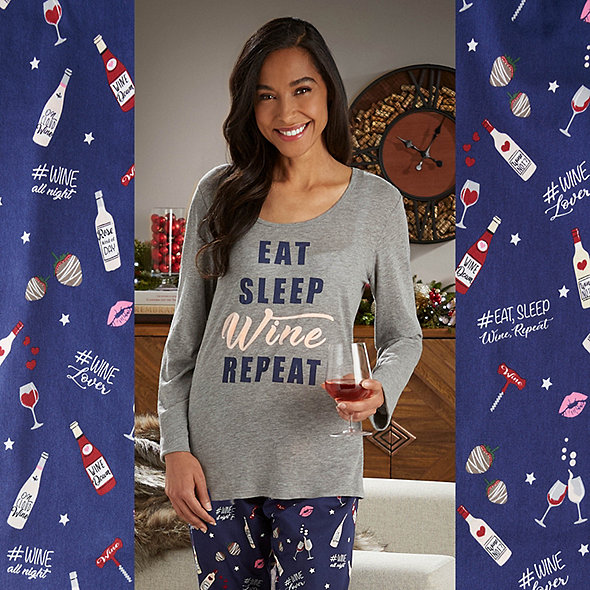 For the fun-loving, wine-drinking special someone in your life, our "Eat, Sleep, Wine, Repeat" Apparel is the perfectly playful present. "Unwined" in style with this year's collection of wine-inspired cozy sleepwear. Made of 100% silky-smooth cotton, this collection includes a long sleeve t-shirt, nightshirt, and pajamas.
To complete the look and stay cozy this holiday season, we've designed some wonderfully warm Sherpa-lined slipper socks featuring smart, non-slip pads. This comfortable, cozy set of wine-inspired fashion is sure to delight even the most casual wine lover this holiday season.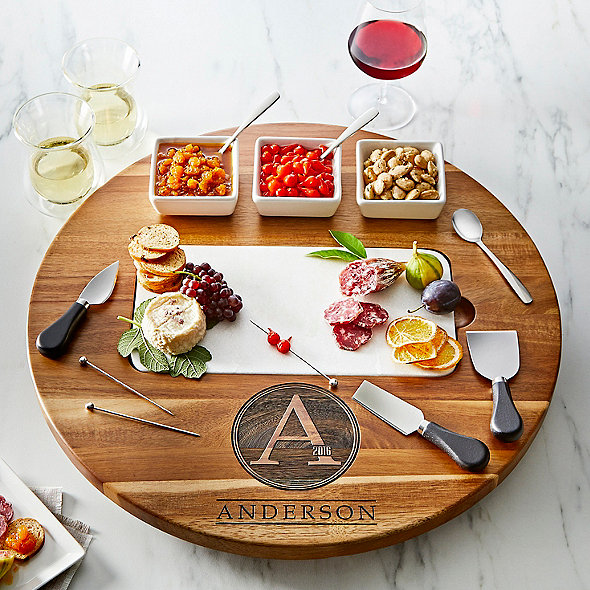 If you've got someone in mind who loves to entertain, our personalized cheese boards are the perfect present. Stunning and functional, these cheese and charcuterie boards come in a variety of custom designs. Our six-piece, acacia wood set features a glass dome, perfect for outdoor functions, and comes with three distinct cheese knives. Our pedestal-style board is also made of gorgeous acacia wood and features a removable marble inlay. This pedestal piece is also completed by three unique cheese knives. Finally, as the show-stopping masterpiece for any entertainer, we've created a lazy-susan style cheese and charcuterie board. This gorgeous piece includes 1 acacia wood lazy susan, 1 removable marble insert, 3 cheese knives, 3 metal picks, 3 spoons, and 3 ceramic bowls.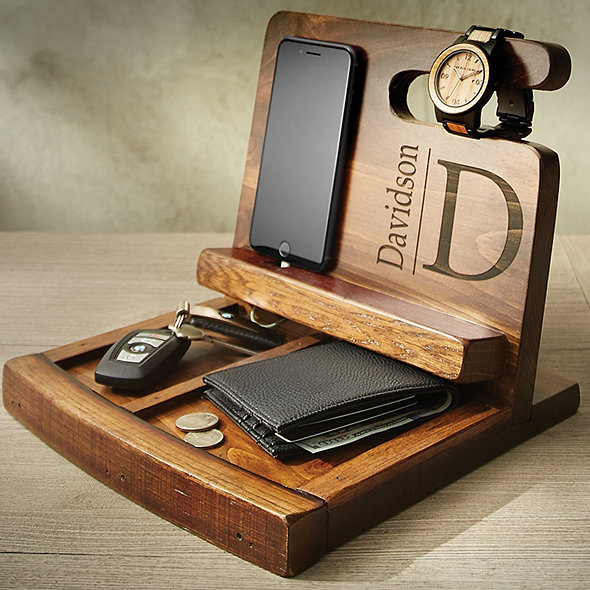 If that special man in your life needs some stylish help organizing his things, look no further. Our Men's Deluxe Valet features wood from reclaimed wine barrels, and has space to hold smartphones, watches, glasses, and more. This solid, wooden piece even has a carved opening for a smartphone cord, making it the perfect bedside charging accessory. For an added 'special something', this piece is also able to be gorgeously personalized with a name and initial on the front-facing panel.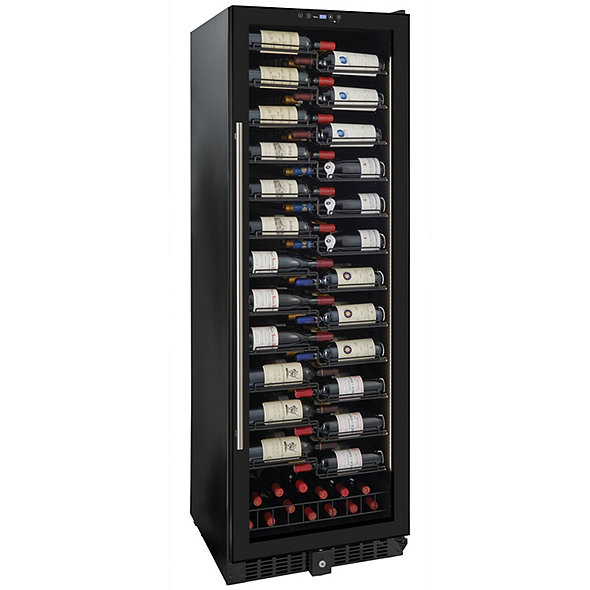 This state-of-the-art wine refrigerator is the perfect unit for the experienced wine collector in your life. Featuring a staggering 155-bottle capacity, this unit is robust enough for even the most expansive and diverse collections. Its patented, matrix-style display pairs with LED lights for an intense, dramatic display of your favorite bottles. It's not just a pretty face, though — this unit features a temperature range of 46-65F, creating ideal storing conditions for reds and whites, and optimum serving conditions for most whites. This is built on state-of-the-art compressor cooling technology, making the Wine Enthusiast VinoView 155-Bottle Wine Cellar a perfect long-term storage option for your investments.
GIFTS FOR THE WHISKEY LOVER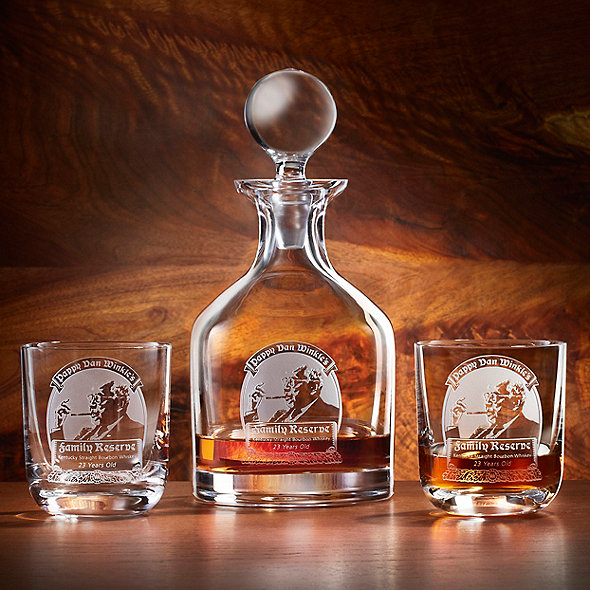 Buying for someone who prefers whiskey? We've got you covered with this Pappy Van Winkle decanter and glasses set. Legendary for their dedication to quality spirits, Pappy Van Winkle has long been the go-to name for Whiskey aficionados. With this Pappy Van Winkle-branded decanter and glasses set, the whiskey lover in your life can showcase their knowledge with functional yet elegant style. The set is made of ultra-heavyweight glass that's been deep etched with the regal 23-year Pappy Van Winkle's Family Reserve logo. This holiday season give your loved one a special piece to display their special spirits. (Sorry folks, the Bourbon is not included!)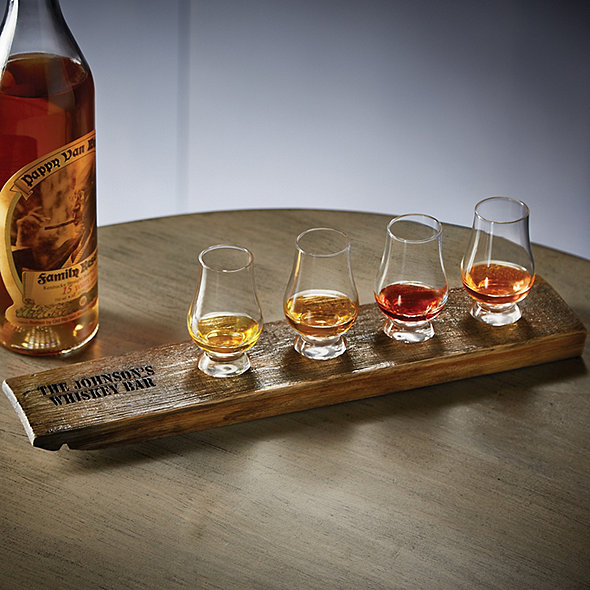 Looking for the perfect gift for the whiskey lover in your life? Search no further. Our Personalized Reclaimed Barrel Whiskey Flight Set is a unique present that your whiskey-fanatic loved ones will adore. Made of authentic, reclaimed bourbon-barrel wood, this flight also includes four Glencairn tasting glasses. Aside from the authentic wooden flight itself, Glencairn glasses are considered the industry standard for spirits tastings. The tulip-shaped glass amplifies all the aromatic and flavor characteristics of the spirit, while dulling the ethanol burn that can come from spirits served neat.
THE ULTIMATE WINE LOVER GIFT!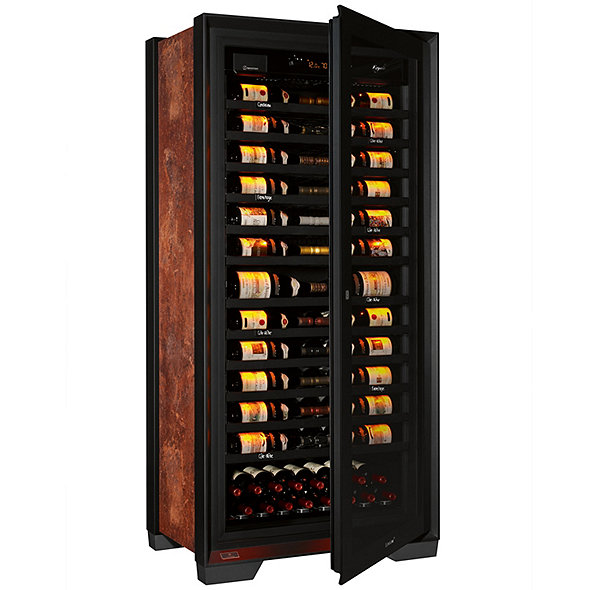 Simply put: The EuroCave Royale Wine Cellar is the best wine cellar in the world. So, if a loved one has a robust, diverse wine collection that seems ever-growing…here's the solution. For 40 years, EuroCave has been innovating in the wine cellar industry, and the Royale is the pinnacle of that work. These individually numbered units are exquisite showpieces that also feature the apex of long-term wine storage technology. The gorgeous Royale features a patented humidity control system, and ultra-precise temperature control at 53.6 F with a maximum fluctuation of +/- 0.5F. On top of all that, the EuroCave Royale comes with a 10-year guarantee, so you can gift with peace of mind this holiday season.
IN CONCLUSION
Whether you're buying for a wine lover, a whiskey aficionado, or just someone who likes to entertain, Wine Enthusiast has the perfect gift for that special someone. 'Tis the season for giving, after all, so don't be shy — browse these wine gift ideas, or visit our best wine gifts page for a helpful guide to our other products. The perfect gift is just a few quick clicks away.